Cassels Waterfowl Outfitters
We are a full-time Guide Service that hunts all species of waterfowl in southern New Jersey!
Gunning the Atlantic Ocean and the Delaware Bay, we specialize in decoying shots from 15-25 yards for Scoter, Old Squaw, and the Bonus Eider on Occasion.
Excellent opportunities are also offered in the surrounding marshes for Puddle Ducks in this prime waterfowl area. For the widest variety, we highly suggest the coast of New Jersey for both resident and migrating flocks of Puddle Ducks, Divers, and Atlantic Brant.
If goose hunting is your preference, Canadas or Snows are well scouted in all southern zones. Our guides have impeccable resumes in-field performance and competition calling. This and a strong desire to deliver a memorable and educational experience, lets Cassel Guides deliver with a professional, yet fun attitude.
About Me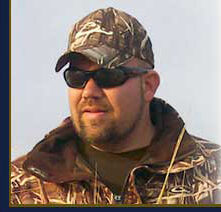 Hello, I am Scott Cassel founder and owner of Cassels Waterfowl Outfitters. Hunting since the age of twelve, waterfowl hunting has been my sole obsession for nearly a decade now.
As a U.S. Coast Guard licensed captain, I've hunted ducks and geese from Manitoba and Arkansas to all over the Atlantic Flyway. I'm a member of Ducks Unlimited, Delta Waterfowl, and the New Jersey Waterfowl Association.
Cassel Waterfowl Outfitters is a proud member of the Avery Outfitter program. I'm currently a Pro-staff Member for Hevi Shot and Drake Waterfowl Clothing.
In the summertime, you will find me fishing and crabbing the marshes of New Jersey and Delaware with my family. I judge Calling Competitions while traveling to waterfowl shows in Michigan, Ohio, New Jersey, and New York.
I build E. Allen Decoys that are hand-painted by my wife Heather Cassel. You will see these decoys in action mixed in with our GHG Decoys.
Our Guide Service consists of five experienced guides in addition to myself. All are very capable and trustworthy associates that I am proud to have as part of this team.
The Hunt
We can accommodate your hunting party, regardless of size. If you like to hunt by yourself, we offer a hunt in which we will spend the day with you in our two-person sneak boat for a personal, in-your-face gunning experience.
Duck Hunts – Two to Twelve Hunters
Duck Hunts – Single Hunter & Sneak Boat
Canada Goose Hunts – Sept. through Feb.
Snow Goose Hunts
Other hunting methods vary per the situation and target species. Special accommodations are available with prior notice.
The Gear
Our Boats
17′ & 19′ Fiberglass Duck Wranglers, fully equipped
17′ Aluminum Custom Duck Boat with Custom Blind
Fiberglass Custom Duck Boat with Blind
Fiberglass Roy Boat, 2-person Sneak Boat
South Bay Sneak Boat
Our Equipment
GHG Decoys – Canadas, Snow Geese, Sea ducks, Divers, Puddlers
Decoys – Hand Painted E. Allens and Ureaducks by Heather Cassel
Drake Waterfowl Clothing
Nat Gear
Salem Boat Exchange
Duck and Goose Calls
Avery Blinds and Gear
PatternMaster
Our Dogs
Chesapeake Bay Retriever from Redlion Kennel
Labrador Retrievers from Sight To Sea Labs
The Bottom Line
We work very hard to provide our customers and guests with an enjoyable experience.
We pride ourselves on giving you the best experience possible. Set up and ready to go when the first light arrives, we use the best equipment and do everything under our control to provide a safe hunt. We have the availability to meet most requirements and any special needs.
Contact us to Customize a Hunt to fit your needs!