Hello, I am Scott Cassel founder and owner of Cassels Waterfowl Outfitters. Our Guide Service consists of five experienced guides in addition to myself. All are very capable and trustworthy associates that I am proud to have as part of this team.
Barry Readinger

Barry Readinger has been hunting waterfowl since the age of twelve. He started hunting geese using 50 black trash bags as decoys and has been obsessed with waterfowl hunting ever since.
As he got older he started building his rig to more modern decoys and gear. Barry started to enter calling contests, two short years later, at the age of 14.
He has also been in the Pennsylvania Outdoor News several times about topics including, calling and decoy setups, as well as snow goose hunting tips.
Barry has not only hunted waterfowl in a variety of places in the United States but also ventured to Argentina to experience his passion there. For his age, he has a wealth of knowledge when it comes to waterfowl. In the summer you can find him bass fishing and bow fishing on local rivers.
Barry also likes to shoot sporting clays and has won several competitions in the Berks County area. He is also a volunteer firefighter for his local community. He is also a volunteer for Ducks Unlimited.
Chad Seymour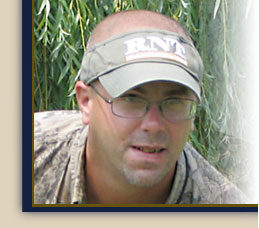 Chad Seymour started tagging along on waterfowl and pheasant hunts with his father before he was old enough to carry a gun himself. Chad took up duck and goose calling and has been honing his skills ever since.
In 2000 Chad won the Pennsylvania State duck calling championship to earn his first trip to Stuttgart to compete in The Worlds Championship Duck Calling contest. Chad has competed in Stuttgart a total of four times also having won the New Jersey state title three times.
Chad has hunted in three of the major flyways including Pennsylvania, New York, New Jersey, Maryland, Arkansas, and Texas. Chad's guiding experience led him to a managing and guiding position here with us in December of 2008.
When Chad is not chasing waterfowl he enjoys turkey and upland bird hunting, saltwater fishing, dog training, and deck handing on saltwater charter boats. Chad currently lives in Port Norris, New Jersey with his wife Jamie and their two Labs Elli and Cadie.
As well as being a Pro-Staffer for RNT, Chad is also a Pro-Staffer for Natgear brand camo. He is sponsored by Sight to Sea Labs and is a dealer for RNT Calls and Products. Feel free to contact him for your RNT needs.
Donnie Davis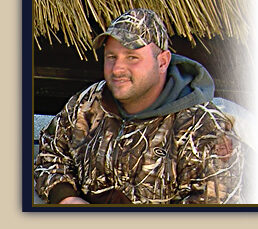 A native of Fortescue, NJ Donne grew up running boats throughout the South Jersey Marshes and has been duck hunting exclusively for the past 15 years. He specializes in hunting puddle ducks in the South Zone marshes along Delaware Bay.
In the summertime, you will find him in the same marshes we duck hunt with a fishing rod in hand. He has been an all-important component of Cassel's Waterfowl Outfitters since 2005.
Donnie is one of our "local experts" who knows how to put the pattern of the ducks together. He will run you to places in a boat where most will never go. Hunt with him and watch him push the boat through the mud. You will think he is crazy until you see the ducks coming flying in.
Marcus R. Riddell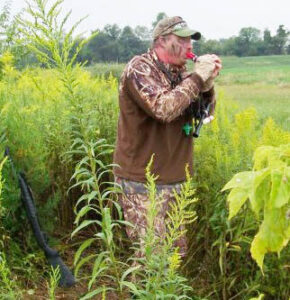 I have been hunting for 26 years. I started hunting ducks on the Susquehanna River in Selinsgrove, PA, using hand-carved cork magnum decoys, which were made by our hunting crew in a taxidermy shop.
I got out of waterfowl hunting when I enlisted as a firefighter, but after my tour, I returned home and picked up waterfowl hunting again. Other than waterfowl, I hunt for Whitetail deer, turkey, bear, and small game.
In the off-season, I enjoy my summers fishing and spending time with the family.
I am married to my best friend and hunting partner Megon. We had our first child, William, in May of 2012. I am a firefighter at the Perseverance Fire Company in Jonestown, PA, and a Member of Delta Waterfowl, and Ducks Unlimited. I participate with the fish and game club at Fort Indiantown Gap, and I am on Pro-Staff for Banded Calls, Hevi Shot, and Goose Noose Lanyards.
Steve Lessel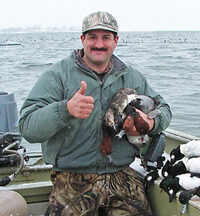 I would like to introduce to you the newest member of our team, Capt. Steve Lessel. Steve is a USCG licensed captain and has many years of experience hunting waters big and small. While his passion is in hunting for divers and sea ducks, plenty of puddlers find themselves in his boat each year as well.
While most of Steve's experience has been hunting in NJ, he has also spent considerable time gunning sea ducks and divers in New England and on the Great Lakes as well as time in North Carolina and Alaska. I guarantee you'll have an enjoyable experience while hunting with Capt. Steve.
Another passion Steve has is a love for photography. You'll rarely see him out gunning without his camera by his side and you'll often be blessed with some great pictures from you're hunt.
In the off-season, you'll find Steve on the saltwater. He'll either be running his own boat inshore or working the cockpit of the "Megan Beth", a 38' charter boat, in search of anything with fins from the beach on out to the canyons.